Aiersi Guitar Technical Staffs
As a leading chinese guitar and ukulele supplier,Aiersi has experienced professional makers in charge of design ,production,quality and inspection . especially we have master luthiers who are very specialized. so this is why there have more and more customers buy aiersi models in the market.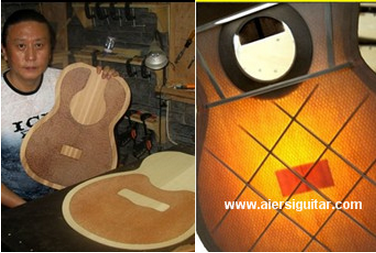 Master : Yulong Guo - Aiersi master Level handmade guitar models
China No.1 Classical Guitar Luthier Yulong-Guo who is famous in guitar area including China and outside of China too ! A pioneer in Many designs resulting in one of today's most outstanding guitars,praised by the greatest concert guitarists including David Russel,John Williams …..
Nowadays, He makes best concert grade classical guitar/ acoustic guitars at his workshop ! very nice sound, top grade handmade! He is the only luthier to make double-top model guitars in China. In order to introduce Mr.Guo's handmade models for the market. Mr.Guo authorized aiersi as only partner (in China) to provide his models in the market! Now,we would like to find dealers in Each Country!
also, Master Guo made artist brand double top acoustic guitar and  smallman guitars for aiersi
Yulong Guo Models 
====================================================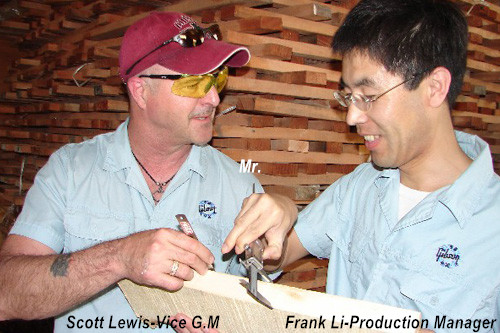 Mr.Frank Li — Production manager for Aiersi electric Guitar/Bass
he is first chinese got fully trainned at gibson in US and be production manager at gibson factory in China!
—–Before 2005, Frank Li had been engaged in production management job in multi-national
companies,specialized in lean production management.
When Frank Li joined Gibson Qingdao , Gibson's only wholly owned guitar factory in China, as Production Manager in Sept.2005, the factory was in a crisis, low productivity and terrible quality caused by the poor management from Korean managing staff made the factory hard to survive. Korean OEM factories were the main source of top grade Epiphone guitars in market; GQ could not hold a candle to these OEM factories in all terms. Nobody knew what the new Production Manager would bring to the factory after Korean managers were forced leave. But things changed just from the day, by the lean production system and strict quality control system established by Frank Li, the productivity started to increase and the quality improved rapidly.  Till 2008, GQ defeated all Korean OEM factories both in production capacity and quality. So Gibson cancelled the Korean OEM factories, moved all the production of top grade Epiphone guitar to GQ. Frank Li was also promoted to the position of Vice General Manager Production of the factory.
What Frank Li brought to Gibson was the improvement of management, however Gibson brought to Frank Li was Gibson's first class guitar manufacturing technology. With the 8 years in GQ, Frank Li has become skillful on the manufacturing of LP, SG and hollow body guitars and has ever been to Gibson's factories in Nashville and Memphis to learn Gibson's guitar building skill.
With the strong desire to establish a topguitar brand of China, Frank Li left Gibson in 2013, after investigation to many guitar factories in China,Frank Li joint usfocus on the manufacturing of  Electric guitars and bass . especially for LP and Hollow body models.
Aiersi electric guitar videos link http://www.aiersiguitar.com/aiersi-brand-electric-guitar-videos-from-customers/
You can share this story by using your social accounts: