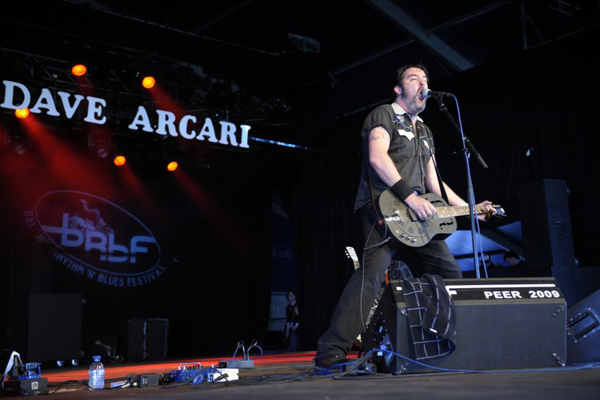 DAVE ARCARI BIOGRAPHY
"Dave plays like he got his skin turned inside out and pretty soon my skin was inside out too listening and it was all good. That boy bleeds for you – he a real down deep player and a soul man…" SEASICK STEVE
SLIDE guitarist & songwriter Dave Arcari's alt.blues sounds owe as much to trash country, punk and rockabilly as they do pre-war Delta blues and have been showcased via nine internationally-acclaimed solo CD releases.
Arcari's festival appearances include Glastonbury (UK); Peer Festival (Belgium); Moulin Blues (Netherlands); BluesAlive (Czech Republic & Poland shows); The Great British R&B Festival; and Augustibluus & ViruFolk (Estonia).
He has also played industry showcases at the North by North East (NxNE) music festival in Toronto, Canada and he was a finalist the UK Indy Music Awards reaching the top four in his category (best male solo artist).
With more than 100 UK dates a year plus regular shows in Finland, Estonia, France, Germany, Belgium, Poland and Canada, Arcari is one of the hardest gigging live artists on the circuit. A series of xanax shows with folks including Steve Earle, Alabama 3, Seasick Steve, Toby Keith and Jon Spencer along with his relentless UK and European tour schedule have established Arcari as a formidable international solo performer who is fast building a media reputation as a 'hell-raising National guitar madman'.
Arcari's growing reputation was endorsed in Spring 2007 when he was asked to put music to Robert Burns' (Scotland's national poet) poem Parcel of Rogues for a BBC Scotland special to mark 300 years of the Act of Union between Scotland and England. He also presented the programme, interviewing many high-profile political figures, musicians and historians along the way.
In 1996 he quit his first proper band role as guitarist with Summerfield Blues (which won the Alexis Korner memorial trophy for 'Scottish Blues Band of the Year' at Edinburgh International Blues fest in 2003 – the same year the band released it's debut, and only, CD album Devil & the Freightman) to concentrate on his new found National steel guitar. It wasn't long, though, before he was joined by harmonica player Jim Harcus and the intended solo career went by the wayside as Radiotones started to form and evolved into the force it is today. So while the electric Nationals and Marshall stack are on the back burner for Dave's solo appearances, his hard-hitting gravel-laden vocals and slashing bottleneck steel guitar make for an aggressive, dynamic blues-based sound that owes as much to punk, rockabilly and trash country as pre-war Delta blues.
Mr.Dave Arcari got aiersi parlour resonator guitar TRG-05 as birthday gift from his wife  2 years ago. as world famous bluegrass star. we are happy that he gave high comments for our guitar. especially he made video for our aiersi guitar once got .  after 2 years pasted . he shared new short interview about our aiersi parlour resonator guitar, it's a crazying short show for our aiersi parlour resonator guitar !
find same aiersi brand parlour resonator guitar from web link
https://www.aiersiguitar.com/category/parlour-resonator-guitars/
The Sound Video 2 years ago!
The New Interview in 2016